Bay Bash Classic
Fly Fishing Tournament
August 12th, 2023

SILENT AUCTION LINK HERE. RUNNING AUG 8th-AUG 15th.


Thank you to everyone who participated in this year's Bay Bash Classic. With 15 anglers competing, we had 6 teams submit catches. No slams were caught and fishing seemed a bit slow, but it was a close race to the very finish. Here is the leaderboard:
1st: Team No Skunk: 28in (red drum)
2nd: Foul Hookers: 23in (red drum, striped bass)
3rd: Summer is Howelling: 19in (striped bass)
T4th: Weekend Warriors: 13in (red drum)
T4th: Reel Flies No Lies: 13in (red drum)
5th: Malgee/Weidemer: 10in (trout)

See you next year!


The Bay Bash Classic is a fly fishing only, catch and release tournament for Speckled Trout, Striped Bass, and Redfish. Formerly, a division in the Bay Bash Family Fishing Tournament, we've decided to break off the fly fishing division into it's own event. 100% of tournament profits is given to the Bay Bash Foundation. Your participation will fund events for the special needs community in the Northern Neck. Events include taking them fishing, on ecotours, and more.
This tournament will operate on a remote format. You are able to participate from anywhere on the Chesapeake Bay and it's tributaries without mandatory captains meetings or award ceremony. Please see rules below for specific guidelines.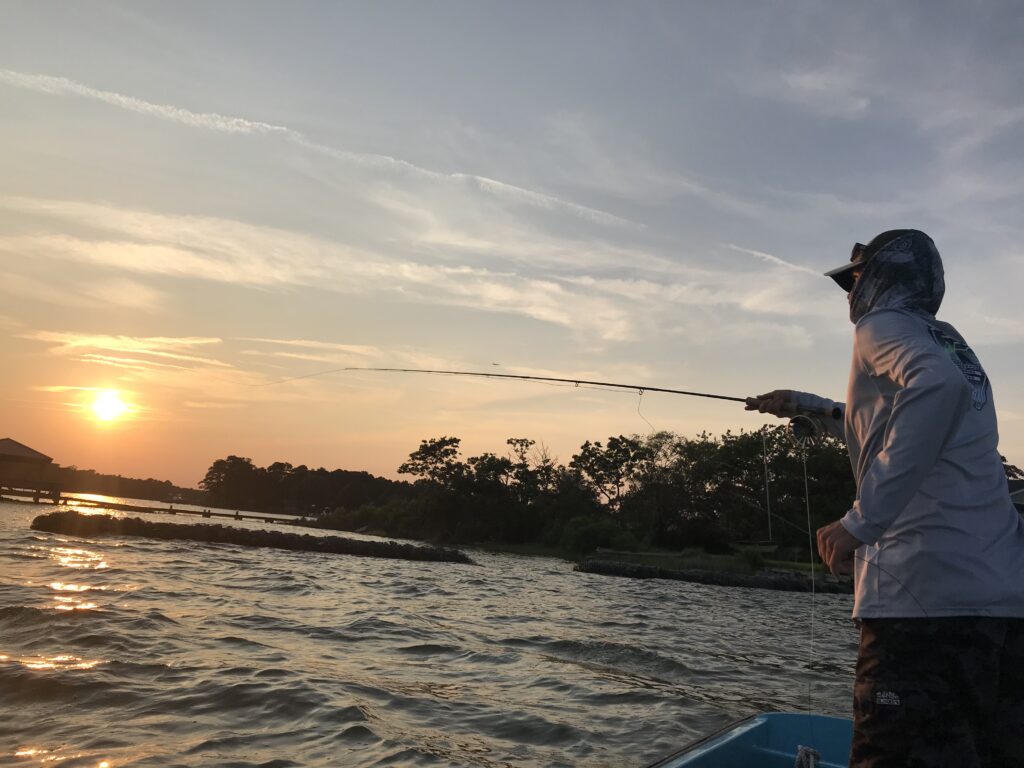 Tournament Objective: Anglers will compete solo, or in a team of two, targeting 3 species: Speckled Trout, Striped Bass, and Redfish. The aggregate length of your top catches for each species will be your score.

Registration: Registration must be complete by 12:00PM August 11th. Anglers must complete the registration form HERE. Registration is not valid until payment is complete.

Prizes: The winner and runner up team will both receive trophies from Fish Burn Art (view work HERE) and a variety of additional prizes. As our prize pool continues to grow, thanks to our sponsors, we hope to give out prizes to more anglers, not just the winners. E.g. a prize for smallest fish.

Sponsors: TFO, Scientific Angler, Seven Seas Flies, The FlyFish Journal, FishBurnArt, Cheeky Fly Fishing and more to come.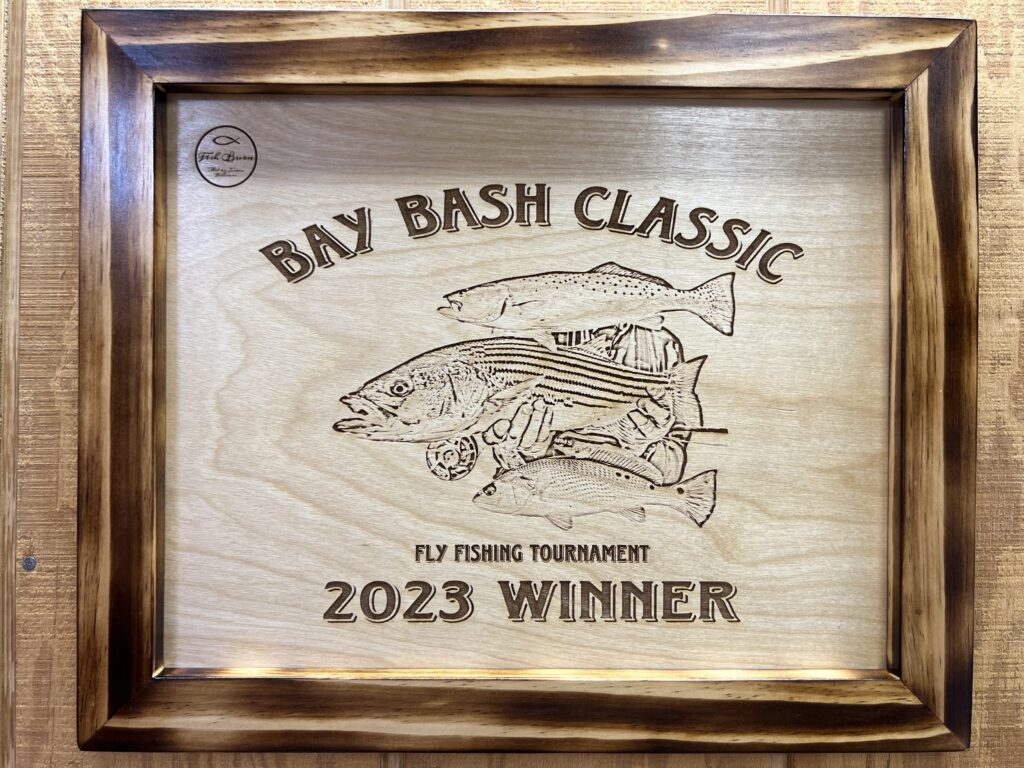 How it works: Anglers will be given a code at midnight before fishing. This will be sent to the email you used for registration. If you did not receive a code contact Ingram Bay Marina (804)-580-7292 or (704)682-7069 in the morning and we will share the code. Place the code clearly on your hand as you measure fish (shown below). We recommend using a large waterproof marker for this. If your code is unclear, your catch will be invalid. Catches must be text to (704)682-7069 during tournament hours. Please include your team name in these text. A panel of judges will together view the photos and collect scores.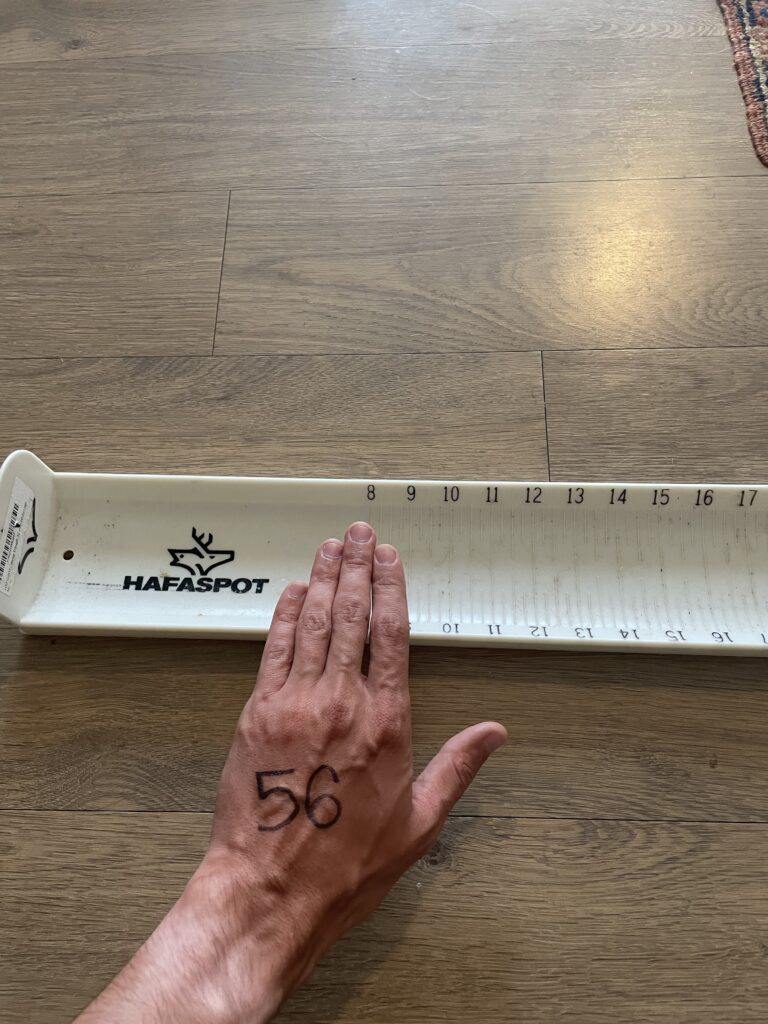 Additional Rules:
1. This is a fly fishing only tournament. All fish must be caught with a fly rod, fly reel, fly line and fly. If there are any signs of spin fishing, or other catching methods, taking place your team will automatically be disqualified. We highly recommend leaving the spin tackle out of the boat this day. E.g. if we see a crankbait in the background of your photo. That could mean a DQ. Even if the fish was caught on fly.
2. Tournament catching hours are from first light (30 minutes before sunrise) to 3pm. This is important to note when text submitting your catches. E.g. if you are fishing somewhere without service, call fishing early if you need to get to cell service and submit your catches.
3. Slams (a catch of all 3 species will always win). Lets say John catches a 20in Speckled Trout and 25in Redfish (45in total). William catches a 10in Speckled Trout, 10in Redfish and 10in Striped Bass (30in). While Williams score may be lower, he beats John in this case for catching a slam.
4. When measuring the length of a fish, the fish will be measured from the tip of the nose to the tip of the tail (longest point). Improper measured fish may risk disqualification. See picture below for an example.
5. Eligible water is anywhere on the Chesapeake Bay that can be accessed publicly.
6. Anglers must abide by all state and federal laws on the water while participating. A valid fishing license is required.
7. All participants agree that Ingram Bay Marina, the Bay Bash Foundation and any sponsor of this tournament shall not be liable for injury, loss, or damage of any kind resulting from participation in this tournament or from the acceptance or use of any awarded prize.
8. Anglers will practice catch and release, read here on tips for more efficient catch and release.